Watch Hokuspokus full film here

Country: Germany
Language: German
Media: Black/White
Sound: Mono
Length: 83minutes
2276m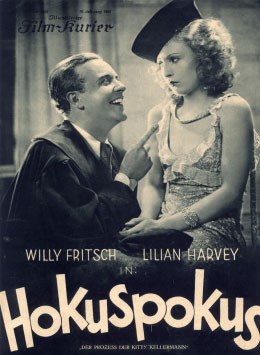 This film is shot from April 24th to May 15th 1930 in the Ufa-Atelier, Neubabelsberg. The outdoor Scenes are done at Werbellinsee.

On June 13th 1930, it is disallowed by the Censors for projection to youthful audiences (document: B. 26164 Filmprüfstelle Berlin).

The premier showing takes place on July 11th 1930 in Berlin at the Gloria-Palast and on July 25th 1930 in Vienna at the Apollo-Theater.

A silent version of this film also exists with intermediary titles.

Two remakes, both by Kurt Hoffmann in West Germany ensue: Hocuspocus (1953) and Hokuspocus or: How do I make my Husband Disappear? (Hokuspokus oder: Wie lasse ich meinen Mann verschwinden? (1965/1966).

The story recounts how Kitty Kellermann, the widow of Paul Kellermann an unsuccessful artist, appears in court charged with drowning her husband during a boat ride.

Then, the fact comes out that she is three months pregnant, although her husband already is dead since five months.

There upon, a certain Peter Bille, confesses to the murder. The case appears to be solved, but Bille escapes from custody.

Finally, it is only after the Prosecutor, the Chief Judge and the Defense Lawyer all accept an invitation from Kitty Kellermann that the surprising truth actually comes out.


Cast
Willy Fritsch
Lillian Harvey
Oskar Homolka
Gustav Gründgens
Otto Wallburg

Fritz Schmuck
Ferdinand von Alten
Harry Halm
Rudolf Biebrach

René Hubert

Kurt Lilien
Ruth Albu

Max Ehrlich
Paul Biensfeldt
Johannes Roth
Ernst Behmer
Erich Kestin
Adolf Schröder
Albert Karchow
Margarethe Schön
Wilhelm Bendow
Julius E. Hermann
Geza von Weiss


...Peter Bille
...Kitty Kellermann
...Grandt, Chief Judge
...Dr. Wilke,

Prosecutor


...Dr, Schüler, Defense
Lawyer
...Hartmann, 2nd Judge
...Lindborg, 3rd Judge
...Kolbe, District Attorney
...Morchen, Witness
(Boat Rental Agent)
...Loiret, Witness
(Fashion Designer)
...Kulicke, Witness (Hobo)
...Anny Sedal, Witness
(Chamber Maid)
...Kuhnen, Auctioneer
...John, Butler
...Master Tailor
...Older Court Assistant
...Younger Court Assistant
...Courtroom Guard
...Jury Foreman
...Jury Member
...Court Reporter
...Hungry Jury Member
...

Directed by Gustav Ucicky

Written by Karl Hartl &
Walter Reisch.

Based on a play by Curt Goetz

Cinematography by
Carl Hoffmann

Sound by Gerhard Goldbaum

Stage sets built by Robert Herlth
& Walter Röhrig

Make-up by Maria Jamitzky &
Emil Neumann

Music by Robert Stolz &
Willy Schmidt-Gentner

Song score by Walter Reisch

Production: Universum-Film AG,
Berlin (Ufa)

Produced by Erich Pommer

Head of Production
Günther Stapenhorst

Sound Directed by
Erich von Neusser

Sound System from Klangfilm

Original Rental:
Universum-Filmverleih GmbH,
Berlin

Original World Distribution:
Universum-Film AG, Berlin (Ufa)