Country: Germany
Language: German
Media: Black/White
Sound: Mono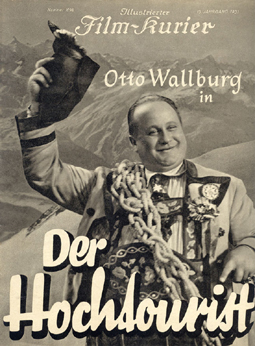 City assemblyman Theodor Mylius is the "owner" of a fat belly, an ambitious wife, and a pretty daughter named Alice. He is also the boss of a Beaver and the future father in-law of an Alligator.
In fact, Beaver is the name of his loyal office clerk, silent ally of the fat but nonetheless agile old sinner Mylius against his strict wife.
Alligator is a rich, young leather manufacturer who, unfortunately, doesn't impress pretty Alice very much. When a chap named Hanns Mertens suddenly appears on the scene, she falls in love with him… and the feeling is mutual. Hanns is a childhood friend of the somewhat stupid Alligator and has always managed to seduce away his female conquests.
Daddy Mylius, despite his big belly is notorious for his amorous escapades; and he has developed a most ingenious system for escaping his wife's watchful eye. Only the loyal Beaver knows where the overweight sinner really goes when, dressed in the full regalia of a Mountain Climber, he pretends to visit his beloved Alps. Beaver also is the only one who knows that the enthusiastic descriptions of snowy peaks that fill Mylius's letters home are copied, word for word, from a paperback novel. In reality, the alpine resort frequented by this tourist consists of an attic apartment in Munich, where, in the company of artist friends drinking wine and champagne, he is guaranteed not to find any edelweiss growing.
Now once again, he is living the high life under this Munich rooftop. This time it is the charming Lore Heller, a young actress, who enchants the corpulent City Assemblyman from Würzburg. Also Lorchen falls for him, because she is ambitious and Mylius misrepresents himself to be casting director of the Würzburg theater, offering to hire her on the spot. Blumenreich, who really is casting director in Bresslau, is also at the party. He finds his colleague from Würzburg a bit strange, but the amount of alcohol that he has consumed prevents him from seeking clarification. Finally both of these theater directors fall fast asleep side by side in a hammock, and dream about Lore Heller, who is napping, in a suit case.
But then something horrible happens. Mrs. Mylius has planned a very special birthday surprise for her husband. She's had his letters from the mountain retreat reprinted and wants to hand this gift to him at the foot of "his" mountain… pressed against mother nature's bosom. Beaver is horror-stricken and tries to convince her to give up this plan. But, Mrs. Mylius becomes frightened and suspicious. Why doesn't Beaver want her to go to her "fatty"? Has something happened to him? Well, if anything has, all the more reason immediately to go and look after her audacious mountain climber. Alice will accompany her. In fact, Alice would prefer to stay in Würzburg near Hanns Mertens, but mother Mylius puts her foot down. Beaver's only hope is quickly to take the first train to Munich and warn the City Assemblyman, who side by side with Blumenreich, still sleeps a sinner's gentle slumber.
Once there, Beaver shakes his boss awake; there is no time to lose. Mylius quickly changes into his mountaineer's outfit and off he travels to the lovely alpine village from where an accommodating innkeeper has been mailing all the enthusiastic letters sent home. The high altitude tourist gets there just in the nick of time, ahead of his wife, and continues on to a nearby mountain hut. But his pursuers catch up to him. On the one side there's his wife and daughter… and on the other Blumenreich and Lore, who both by now have realized the truth about Mylius. Finally, there's Hanns Mertens, who has just noticed that the book that Mrs. Mylius printed from Mr. Mylius's letters, is a copy of his own book.
Mertens is determined to make the old sinner pay for this affront by granting him the hand of his daughter. He corners the big man and finally, hanging on a rope along a snowy cliff, the bogus mountain climber acquiesces and gives Alice permission to marry her beloved Hanns.
As for Lore Heller, she has found a new patron in Blumenreich and therefore she too is content. The high altitude tourist can now celebrate his birthday with his family in the midst of his "beloved" mountains. "Berg Heil"!

Cast
Otto Wallburg

Erika Glässner
Maria Solveg
Eugen Rex
Theo Shall
Wolfgang Zilzer
Max Ehrlich
Trude Berliner
Leopold v. Ledebur
Heinz Bille
Erik Ode
Fritz La Fontane
Wollmann
Edgar Pauly
Fritz Eggerth
Gerhard Urschler
Mrs.Friedrich-Malatta
Paul Dorn
The 4 Benjamins


...Theodore Mylius,
City Assemblyman
...Johanna, his wife
...Alice, his daughter
...Beaver, his office clerk
...Hanns Mertens
...Fritz Grohmann,
...Blumenreich, Director
...Lore Heller, actress
...
...
...
...
...
...
...
...
...
...
...

Directed by Alfred Zeisler

Written by I. v.Cube & Paul Frank, based a comedy by Kraatz & Neal

Produced by Alfred Zeisler

Cinematography by Konstantin Tschet and Bernard Wentzel

Sound by Dr. Gerhard Goldbaum

Editing by Helene Bursek

Filming directed by Arthur Ohme

Stage sets built by W. A. Hermann & Herbert Lippschitz

Music by Otto Stransky

Text by Ruth Feiner

Musical direction by Hans Otto Borgmann

Production company: Ufaton-film

Rental by Ufaleih