Country: Germany
Media: Black/White
Sound: Mono
Length: 2439 Meters
Duration: 89 Minutes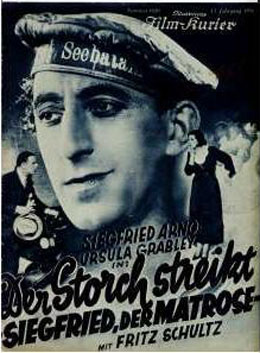 This film is shot in EFA-Studio Berlin-Halensee starting in May 1931.
On August 26th 1931, the Censors (Filmprüfstelle Berlin) authorize it for projection (document: B. 29694, Jv).
The premier showing of this movie takes place in Berlin on September 1st 1931 at the Tauentzien-Palast.
In his review appearing in Film-Kurier on September 2nd 1931, Georg Herzberg writes: "Positive results are the numerous gags around Siegfried Arno who, as a phony sailor (as a result of circumstances that elude the viewer's under-standing), gets arrested and suffers much duress at the hands of several non-commissioned officers - sorry here they are called "Maat" . Sigi Arno manages to get through every situation that the three writers who produced the script for this film, impose upon him: sleeper car terror, clerk haunted by bad luck, insolent and insistent prisoner, as a civilian, in uniform, in pajamas, in drag, he always gets laughs. He rounds the edges of each and every situation through the lovely legerity of his gestures. In this film he outpaces the script writers and the director by several giant steps. Are the baker's dozen funny events sufficient? Emo, the director and Pasternak the production director apparently were so smitten by the happenings around Siegfired Arno that they didn't keep an eye open for anything else. The final scene is quiet amusing: Arno plays the captain in a fairground singing about the life of a sailor."

Cast
Siegfried Arno
Ursula Grabley
Fritz Schulz
Hans Wassmann
Ernest Sennesch
Gustl Stark-Gstettenbaur
Hugo Fischer-Köppe
Elfriede Jerra
Else Reval
Julia Serda-Junkermann
Hans Junkermann
Max Ehrlich
Albert Paulig
Fritz Hofbauer



...Sebaldus Schlank
...Maria
...Harry
...Mr. Müller
...Bredel, Müller's Factotum
...Gustl, Müller's Apprentice
..."Maat"
...Woman in Sleeper Car
...Other Woman in Sleeper Car
...Aunt Irene
...Uncle Eduard
...Mr. Ackermann
...Headwaiter
...Second "Maat"

Directed by E. W. Emo

Written by Bobby E. Lüthge, Karl Noti & Herbert Rosenfeld, based on an idea from Herbert Rosenfeld

Produced by Alberto Giacolone, & Ferruccio Biancini (GLT )

Production direction by Joe Pasternak

Cinematography by Franz Planer & Otto Schneider (STF)

Filming directed by Robert Leistenschneider

Filming directed by Willy Zeunert

Film editing by Paul Ostermayr

Stage sets built by Gustav A. Knauer

Costumes by Robert Stritzke (MAS) & Willi Grabow

Sound by Carlo Paganini

Music by Willy Meisel

Words to music by Kurt Schwabach

Mucical arrangements by Erwin von Platen

Songs titles are The Stork goes on Strike, Boy is that a Business, Your Face is like a Poem (foxtrot)

Production Company was Deutsche Universal Film AG