[ Back ]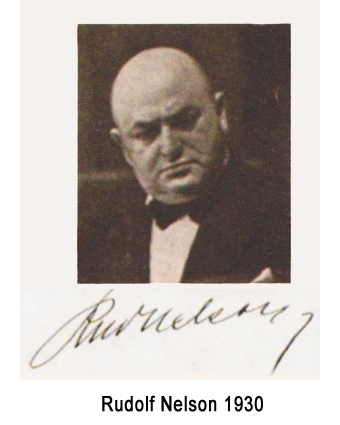 Rudolf Nelson (April 4, 1878—February 5, 1960) was a leading German composer of hit songs, film music, operetta and vaudeville, as well as the founder/director of the Nelson Revue, a significant cabaret troupe on the 1930s Berlin nightlife scene.
Issued from a poor Prussian Jewish family, and raised in Berlin, Nelson took up the piano as a young boy and later studied at the Stern Conservatory. However, his professional turning point came when Nelson discovered the Ueberbrettl, Berlin's first cabaret founded by Ernst von Wolzogen.
Inspired by the genre, Nelson began his cabaret career at the Potsdamer Straße cabaret Roland, accompanying his own compositions on the piano. In 1904, he joined forces with Paul Schneider-Duncker at the famed Chat Noir Cabaret on Unter den Linden, Berlin's most fashionable avenue, going on to direct it from 1907 – 1914. There he not only composed his most famous hit song "Das Ladenmaedel", as well as from 1908 onwards wrote his famous operatic works, notably "Miss Dudelsack", "Der Damenkrieg", "Incognito", and "New York-Berlin"…. But also successfully turned elegant urban Berlin cabaret into a destination where the rich and famous would spend their night-time hours to see... and to be seen!
In 1920, Nelson married singer Kaethe Erholz, and in the same year opened the Nelson-Theater on Berlin's famous Kurfuestendamm (associated with the Sans Soucis restaurant). The revues he staged there are legend, presenting numerous top stars of the period, including Josephine Baker, who appeared on January 14 1926, Weintraub's Syncopators and comic Max Ehrlich. During these years, Nelson also composed revues for Berlin's famed Metropol-Theater at the Admiralspalast.
The arrival of sound films in the late 1920s, and the increasing use of music in films also brought Nelson into this new field. He even appeared as himself onscreen in the 1929 featurette "Und Nelson Spelt", and in 1930 began composing specifically for movies. His screen credits included "Nur Du" (1930), "Dolly macht Karriere" (1930), "Die Marquise von Pompadour" (1931), and "Das Schicksal der Renate Langen" (1931).
Forced by the Nazis in 1933 to flee Germany, Nelson obtained a guest engagement in Vienna through a theater-agent friend. Opening in the Wiener Ronacher, he staged his revue with a new troupe that included Max Ehrlich as guest star. However, anti-Semitism also was rampant in Vienna, so that, even prior to the opening, the Ronacher's director, Bernhard Labriola, received anonymous letters warning him to "cancel his show of Berlin Jews". Nazis then interrupted the April 17th premier, yelling, "Jews get out of Vienna!", so that the performance had to be cut short. By the third evening, the already enormous police detail that had been assigned to the theater needed to be increased to 200 uniformed officers. However, despite this, there were serious interruptions and altercations amongst the spectators forcing the show to end early.

Nelson immediately moved on to Zurich. There he again formed a new troupe, that included: Eva Busch, Dora Paulsen... and guest star Max Ehrlich. However, unable to remain in Switzerland, Nelson emigrated to the Netherlands where he founded still another theater troupe in Amsterdam that went on to become one of the most important Exile cabaret revues in the Netherlands, regularly staging performances there from 1934-1942.

Max Ehrlich in Nelson Revue, Ronacher Theater Vienna 1933

Then, on the evening of the premier, as Max Ehrlich began speaking, the first hissing and whistling immediatelybegan . Ehrlich was irritated; but he continued talking and didn't let the hooligans stop him ... whereupon loud howling, screaming and booing broke out.

Numerous persons from the audience - afraid of what would happen next - fled the theater. The performance was ended, and rioting accompanied by screams of "Jews out! Jews out! filled the room.

With that, the centuries old Vienese tradition of "Live and let live" also in Austria had come to an abrupt end."

Manuscript: "Der liebe Augustin"
Der Wiener Kabaret um Stella Kadmum (1902-1989)
Nelson was interned after the German conquest of the Netherlands and survived five years in a concentration camp. He returned to Berlin in 1949 and reopened the Nelson-Revue-Gastspiel. In 1953, he was admitted to the Ordre national du Mérite. The following year he appeared in the film "Alles für dich, mein Schatz". In 1959, Nelson received the Paul Lincke-Ring in recognition of his songs, revues, and operettas. He died in Berlin in early 1960, at the age of 81
[ Back ]