Country: Germany
Media: Black/White
Sound: Silent
Length: 2621 Meters
(DP: 2421 Meters)
Acts: 7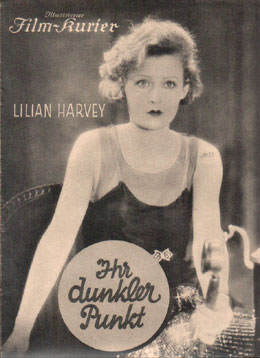 This film is shot in Ufa-Ateliers Berlin-Templehof and on location in AA Nice, France.
On December 21st 1928, the Censors (Filmprüfstelle Berlin) authorize it for projection (document: B. 21239, Jv). The DP version is authorized on January 18th 1929 (document: B. 21470 Jv).
The premier showing of this movie takes place in Berlin on Janurary 19th 1929 at the Gloria -Palast.

Cast
Lillian Harvey
Harry Halm
Willy Fritsch
Siegfried Arno
Warwick Ward
Hermann Speelmans
Wilhelm Bendow
Max Ehrlich
Paul Biensfeldt
Julius Falkenstein
Karl Platen



...Lilian von Trucks/Yvette
...Leopold
...Erik Termeulen
...Paul
...Roger
...Emil
...Jeweler Burggraf
...Head Receptionist
...Berlin Police Chief
...Nice Police Chief
...Night Porter

Directed by Johannes Guter

Written by Robert Liebmann, based on Frank Maraun's novel Die Dame mit dem schwarzen Herzen

Produced by Günther Stapenhorst

Production directed by Günther
Stapenhorst

Cinematography by Carl Drews &
Erich Nitzschmann

Filming directed by Willy Zeunert

Stage sets built by Jacek "Jack" Rotmil

Movie Theater music by Willy Schmidt-Gentner

Art Direction by Jacek "Jacques" Rotmil

Production Company is Universum
Film AG (Ufa), Berlin

Original rental by Ufaleih

Rental by Ufaleih