Country: Germany
Language: German
Media: Black/White
Sound: Mono
Length: 2749 Meters
Acts: 9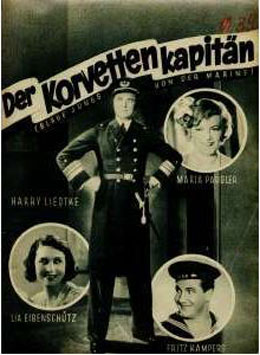 On July 2nd 1930, the Censors (Filmprüfstelle Berlin) disallow this film for viewing (document: B.19086).
Appealed, this decision is upheld on July 14th 1930 by the Chief Censors (Oberprüfstelle). The reason cited is: "The presentation of a brothel street with half naked women hanging out of all the windows attempting to solicit a marine officer is capable of overwhelming the fantasy of young people" (document: O.730; see document).
Finally, on August 19th 1930, the Censors (Filmprüfstelle) approve the film for projection (B26612, Jf).
The premier showing takes place on August 25th 1930.
It depicts a comedy based on mistaken identity in a society setting.


Cast
Harry Liedtke
Maria Paudler
Lia Eibenschütz
Fritz Kampers
Hans Junkermann
Max Ehrlich
Irene Krauss
Franz Wallner


Directed by Rudolf Walther-Fein

Written by Franz Rauch

Cinematography by Frederik Fuglsang & Eduardo Lamberti

Music by Bronislaw Kaper & Ben Berlin

Production company is
Aafa-Film AG, Berlin

Rental by Aafa-Film AG